Excellence and Quality
EVYAP SABUN POLICY:
To make EVYAP a leading Turkish company along with a global footprint, in businesses of personal care and hygiene products, in terms of technology, innovation, environment, occupational health and safety, and quality, and with an emphasis of its responsibilities to the consumers, society, employees, and the environment;
Developing the product range and sales network by its advanced technology as well as product and service quality,
By minimizing the incidents of occupational accidents and diseases, to protect the health and safety of the employees and achieve continuous improvement by preventing the errors with reference to customer feedback,
Meeting customer and consumer needs and expectations by an efficient management and the participation of conscious employees who are well aware and well trained, and ensuring customer and consumer satisfaction per its consumer centered principles,
Providing a systematic review of customer feedback through an objective and transparent process and coming up with the solutions to achieve customer satisfaction, providing the right of return,
Presenting top quality, environment friendly and innovative products manufactured in environments complying with the legislation related to Quality, Environment, Occupational Health and Safety, Product Requirements, Product Reliability, GMP and Reach, with a continuous improvement approach, contributing in the society's welfare,
Making necessary plans for the rehabilitation of the environment and taking preventive and protective measures to prevent large-scale industrial accidents, as well as mitigating their potential harmful effects on human life and the environment,
Obeying the internationally accepted ethical principles,
Protecting the world we live in and the environment under the principle of social responsibility; reducing risks and wastes at its source in order to prevent the climate change and to protect adaptation, biological diversity and the ecosystem; sharing our studies and projects regarding the optimal use and recycle of natural resources and the increase in usage of renewable energy with our employees, customers, suppliers and the society,
• Protecting our knowhow and assets being aware of the associated risks, complying with procedures and instructions by continuously improving of processes with a risk based approach, reducing risks with regulative and preventive actions and ensuring business continuity,
Are our duties as managers and employees of EVYAP.
Taking measures to leave natural heritage to future generations, and achieving sustainable development are our essential principles in the guarantee of a better future.
EVYAP INTERNATIONAL POLICY:
In order to make EVYAP International an International Turkish company as a sales and quality leader in the personal care and sanitary products sectors;
Documenting, certifying and continuously improving our quality management system to meet the requirements of the ISO 9001 standard,
Achieving the corporate and unit goals with a team spirit,
Developing the sales network,
Measuring and improving the efficiency of all of our processes with a continuous improvement approach, reducing the risks,
Meeting customer and consumer needs and expectations by an efficient management with the participation of conscious employees who are well aware and well trained, and ensuring customer and consumer satisfaction per its consumer centered principles,
Continuously controlling the efficiency of the quality management system, implementing improvements deemed to be necessary, providing and conducting practicable conditions,
Protecting our knowhow and assets being aware of the associated risks, complying with procedures and instructions by continuously improving of processes with a risk based approach, reducing risks with regulative and preventive actions and ensuring business continuity,
Are our duties as managers and employees of EVYAP International.
Evyap works with the principle of realizing the quality approach in every field and converting quality into a life style in parallel with the goals of meeting consumer needs and expectations and continuously achieving the best.
Processes are efficiently and productively managed with awareness of Total Quality Management. Within the scope of Total Quality Management; people are the priority and the contribution of the loyalty of educated and competent employees in quality and efficiency activities are ensured. By Evyap's dedication towards continuous improvement of quality, high quality products and services are manufactured with low cost and in short delivery times for both local and international markets' demands.
At Evyap; as we believe in input quality, the supply of inputs in the most qualified, economic and fast manner is aimed along with the trust based relationship with our suppliers.
The quality management system of Evyap which has been conducting its studies for many years has been certified first in 1995. Today; studies for TS-EN-ISO 9001 certification and for ISO 9001 certification in Egypt are currently in process.
By the employee suggestion system and many other quality development projects, the participation of employees is maintained at the highest level and continuous development is ensured in all areas.
In line with the total quality management studies and our increasing awareness of environmental and social responsibilities, Evyap has been improving its product and operations quality with the commitment to minimize the environmental impacts.
EVYAP undertakes to apply any law and regulation of the Ministry of Health which the cosmetics industry requires and constantly traces current GMP (Good Manufacturing Practices) and international standards and ensures the compliance to them.
As EVYAP and EVYAP International employees, in order to manage any risks towards our business continuity and knowhow assets, we manage following activities together with other management systems in an integrated manner;
Protection data consistency, accessibility and confidentiality,
Documenting, certifying and continuously improving our information security management system to meet the requirements of the ISO 27001 standard,
Complying with all legal legislation and agreements related to information security,
Systematical management of risks related to information assets,
Realizing trainings to improve technical and behavioral competencies in order to increase information security awareness,
To generate information security awareness among employees, suppliers and business partners and transferring obligations related to information security to the users.
We work to our limits to be an exemplary company in terms of information security in the personal care and sanitary products industry.
Good Manufacturing Practices (GMP) are a series of protective measures which have been prepared for products which directly affect human health such as food, pharmaceuticals, cosmetics and medical devices under reliable conditions and systems, to prevent any contamination at any stage from production to distribution and to increase reliability. Companies adopting and applying the GMP standards as a principle are preferred by conscious consumers. The GMP certificate is the most significant proof that the brand provides 100% label guarantee, as well as product efficiency and quality. Although GMP is involved with the hygiene rules to be followed by employees during production and with the production records, it is also the whole of scientific methods, practices and principles which have to be followed and documented during the development and production processes to achieve a ''Safe and Efficient Product'' production.
Evyap's GMP studies have been certified in 2012.
Evyap has adopted the principle to offer the best quality products which contribute to and enrich its consumers' welfare. With an approach of customer satisfaction and environmental awareness, Evyap defines the key to success as "presenting superior quality consumer products at affordable conditions to contribute to people's welfare".
As Evyap, we embark a consumer focused approach where consumer requests and suggestions for our entire brands can easily be relayed without any customer profile discrimination through any channel (call center, e-mail, website, fax, letter, social media, dealer), where such requests and suggestions are collected in a single traceable, reportable, transparent and safe data pool. All such records are handled and evaluated in accordance with legal regulations and in an objective, fair and confidential manner and the processes are continuously controlled and improved.
Consumer Hotline : 0 850 211 08 10
E-Mail : tuketicidanisma@evyap.com.tr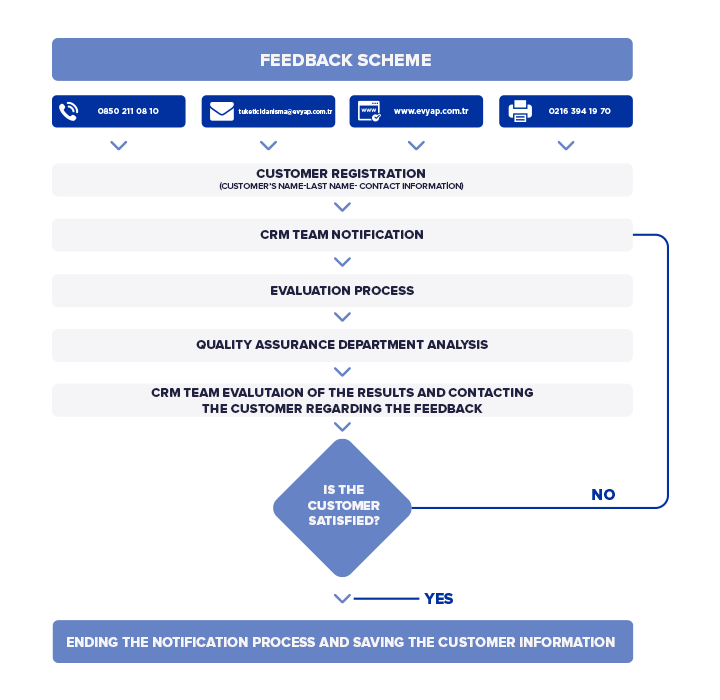 For the purpose of leaving future generations an environment where they can live happily and healthy, Evyap prefers technologies which protect ecological equilibrium and use natural sources more efficiently and conducts an environment friendly production. In the scope of the established environmental management system, Evyap has set its objectives and goals to protect the environment and minimize adverse effects of production activities on human health and environment and has constituted its management programs to realize these goals.
A significant part of the utilized energy is generated by the energy unit.
Evyap's environment studies have been certified in 2003 and the TS EN ISO 14001 Environmental Management Systems Certificate has been awarded. Evyap Tuzla facility has been awarded by the Istanbul Chamber of Industry with the Sector Environment Award in 2005.
Environmental Award
Evyap Tuzla Facility has been awarded in the category of "Forestry Products, Paper and Printing Industry" by Istanbul Chamber of Industry's Environmental Awards which has been presented in 14 different industries since 1995.
Çevre Yönetim Sistemi Kapsamımız
Evyap'ın kapsamın oluşturulabilmesi için, Çevre Yönetim sisteminin sınırlarını ve uygulanabilirliğini dış ve iç hususları, ilgili tarafların gereksinimlerini ve beklentilerini dikkate alınarak belirlenmiş ve yazılı hale getirilmiştir.
Evyap'ın doğusunda Aryum, kuzeyinde Tem otoyolu, güneyinde Deri organize serbest bölge ve batısında Makrokim bulunduğu İstanbul Deri Organize Sanayi Bölgesi Güderi Caddesi Tuzla İstanbul adresinde 40 derece 52 dakika 46 saniye kuzey enlem  2 derece 22 dakika 36 saniye doğu boylamındadır. Kapsam başlığında tanımlanan faaliyetleri kapsamaktadır.
Evyap, TS EN ISO 9001 Kalite Yönetim Sistemi , TS EN ISO 14001 Çevre Yönetim Sistemi, TS 18001 İş Sağlığı Ve Güvenliği Yönetim Sistemi , TS ISO 10002 Müşteri Memnuniyeti, GMP Kozmetik İyi Üretim Uygulamaları, FSC , TS ISO IEC 27001 Bilgi Güvenliği Yönetim Sistemi standartlarını uygulamakta, sürdürmekte ve geliştirmektedir.
Kişisel bakım ürünlerinin;
Satınalma (hammadde, ambalaj vb.), tasarımı, üretimi, satış ve yönetim faaliyetlerini kapsamaktadır.
Bu faaliyetlerini yürütürken çevreye duyarlı ve çevre dostu teknolojileri uygulamaya özen göstermektedir. Evyap'ta, hava kirliliği ve su kirliliğini, sızıntı, dökülmeler, gürültüyü mümkün olduğu kadar azaltmak ve önlemek, ambalaj kullanımını ve atıkları azaltmak, bu atıkların geri dönüşümlü olmalarını, sağlamak ve tekrar kullanmak, doğal kaynak tüketimini azaltmak başlıca amaç ve hedefler arasındadır.
Çevre İznini almış olan ve çevreyle ilgili her konuda öncü olan Evyap; yükümlülüklerini yerine getirmiş bir kuruluştur.
Evyap'ın sürdürdüğü çevre çalışmaları 2003 yılında belgelenerek TS EN ISO 14001 Çevre Yönetim Sistemleri Belgesini almıştır. Evyap Tuzla tesisi İstanbul Sanayi Odası tarafından 2005 Sektör Çevre Ödülü ile ödüllendirilmiştir.
Çevre Ödülü
Evyap Tuzla Tesisi, İstanbul Sanayi Odası'nın 1995 yılından bu yana 14 sektörde verdiği 'Çevre Ödülleri' kapsamında, "Orman Ürünleri, Kağıt ve Matbaacılık Sektörü" kategorisinde bu ödüle layık görüldü.
Evyap, çocuk bezi üretim tesisine FSC belgesi alarak çevreye duyarlılığını belgelendirmiştir.
ÇEVRESEL PERFORMANS
Evyap, çevrenin korunması, doğal kaynak tüketiminin azaltılması, çevre kirliliğinin önlenmesi ve çevrenin gelecek nesillere korunarak aktarılabilmesi amacından hareket ederek, çevresel performansını ölçerek sürekli iyileştirmeyi taahhüt etmektedir.
Bu kapsamda ;
Tehlikeli Atıklarını hassas bir şekilde izlenmekte ve kaynağında azaltma ile ilgili çalışmalar sürekli olarak devam etmektedir.
Evsel ve endüstriyel atık suları, Organize Sanayi Bölgesinin kanal bağlantı izni ile deşarjı sağlanmaktadır.
2018 yılında Çevre şikayeti alınmamıştır.
2018 yılında Çevre kazası yaşanmamıştır.
Malzemenin plastik, cam, metal, karton veya kağıt olmasına bakılmaksızın, kullandığımız malzemenin miktarını azaltmaya yönelik çalışmalarımız devam etmektedir. Mümkün olduğu ölçüde sürdürülebilirlik kriterlerini uyguluyoruz; tüm ambalajlardan kaçınma, azaltma, yeniden kullanma ve geri dönüştürme.
Evyap has evaluated the dangers and risks in order to ensure employees' health and safety, has set its objectives and goals to prevent such risks and has constituted management programs to realize these goals.
In 2005, has obtained the TS 18001 Occupational Health and Safety Certificate which has documented Evyap's priority about its employees.
The FSC® - Forest Stewardship Council which directs global forests and forestry activities is an independent organization established to constitute and develop the management of global forests. Since 2008, widespread works of the forest management system have been continuing. Millions of hectares of forests in countries all around the world have been certified in terms of compliance with the FSC Forest Management standards. Certification activities still are continuing. With the FSC labels placed on forestry products it is easier for the consumer to make a choice among products such as timber, wood, paper products etc. which adds trust and quality to the product.
Evyap has certified its FSC works in 2013.
FSC Policy
As long as holding the FSC Certificate, EVYAP commits not to take place in following activities directly or indirectly which are considered by FSC unacceptable.
Cutting down or trading with illegal wood or forest products,
Breach of conventional rights and humanitarian rights during forestry operations,
Destroying forests of with high protection value during forestry operations,
Conversion of natural forests into plantations or non-forest lands,
Using genetically modified organisms during forestry operations,
Breach of any of the ILO Basic Conventions defined in the ILO (International Labor Organization) on labor basic principles and rights,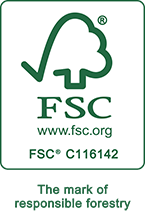 Sexed is a community created by buyers who aim the continuous development in ethical policies of companies constituting the supply chains. Companies join Sedex to use the joint database, taking place in working groups and decisions and to communicate with other Sedex members.
Companies having been subject to Ethical / Social Compliance audits may be member of the Sedex system and by uploading the audit reports to the system they may enable several authorized Sedex members to see the audit results. So, they will not need to be audited several times by different member companies.
Evyap Sedex/SMETA (Sedex Members Ethical Trade Audit) has been certified in 2012.
In order to integrate the culture of continuous and sustainable improvement into the employees' daily routine, Evyap Sabun started the process management studies. These studies include not only processes within Enterprise Resource Planning but also covers all processes of the corporation. Processes are reviewed not individually but as a whole and horizontally. As an example to this approach: All steps of the Supply Chain can be analyzed relationally with other processes and improvement areas are defined. With the processes identified in the system, employees can see the interaction of their processes with other processes and can identify any process disconnections. On the other hand, the improvement defined in process flows are realized via the projects.
In Evyap Sabun, the process change management is handled together with information systems integration, where one process change is transferred to enterprise resource planning flows upon certain controls and approval stages and is coming into effect after tests have been conducted.
For the purpose of conducting the processes as a standard in affiliated organizations located in Egypt and Malaysia, Evyap Sabun has expanded the processes via the system and ensures the updated sharing of these processes.
Performance of the processes are measured by the Process Management Unit and improvement priorities and resource planning are defined accordingly.
Excellent corporations show superior performance which meet or exceed their stakeholders' expectations and continue this performance.
Having started its excellence journey in 2012 Evyap, upon adopting this model, has taken the excellence concepts and criteria of the model into consideration and has made its own evaluation, defined areas where it is strong and needs improvement and finally has issued improvement plans with a continuous development approach.
Upon completion its improvements using this model, Evyap has been awarded to obtain a 4 - star certificate in 2013. The certificate has been awarded at the 22nd Quality Congress held at the Istanbul Congress Center in November 2013. Evyap which its journey to excellence is ongoing, is also among the candidates for the Excellence Award. Evyap is also member of the National Quality Movement.